Hiroshi Shinkawa


Primalroots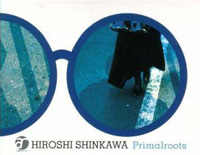 COMPACT DISC
VICL-69001 / aosis records / Victor Entertainment,Inc.
"In the beginning we start off with a very simple way of thinking, with studio musicians playing for others as a part of the job but I've finally reached an age when it is about time to start working for myself and the people around me. I have to do something that will still be there after I am gone...and that was spring of last year. It was a situation where I didn't make any kind of detailed decisions, and thought that we would proceed with this amongst ourselves."

This is one of the 12 albums being simultaneously released in one shot to launch new label called "aosis" the person who suggested, the "instigator", of all this is the star of this album--arranger/producer Hiroshi Shinkawa. Born in Tokyo in 1955, while attending university was active as the tour keyboardist for Yumi Matsutoya and Hi-Fi Set

His work on arrangements for live performances eventually led to arranging in the recording studio, to then move onto producing and ever since a few years ago has been working out of his very own studio. He refers to this 20 year journey as "normal progression" but when talking about what happened before that, quite a lot happened.

He started to study the piano at the age of five but thought "it's something that girls learn" and absolutely wanted to quit and in his mid-elementary school days, it was the first time he heard the sound of the electric guitar, and switched to the guitar. Then in the 5ht grade there was a guy in the class next door who played the guitar (Char!) and they put their first band together. I let him have the main guitar seat and young Hiroshi was the bassist but in his first year at junior high school, he entered a contest sponsored by Yamaha. He played a complete 25-minute copy of Cream's live version of "I'm so glad" within a 5-minute time limit and won.

However, after starting high school he encountered Sergio Mendes & Brazil 66 switched from bass to piano. Around that time, equipped with his self-made chord book from his guitar chords (there were no piano chord books at the time) agilely went to the land where music is mad. So, after going through this rock age, it was the foundation that led to his current activities and projects.

"Ever since I was 20 years old I did a lot of hit songs for young people but the gap between the king of music I make and my actual age keeps widening. And even listening to music I end up listening to it as a part of the job. But, the reason wasn' t a love for music the reason why I became a musician in the first place?"

I have done work on arrangements that is in a sense more difficult than it needs to be for myself, when it is work done for others, although after understanding mistakes of the young and inexperienced, I was able to do work being more considerate of others. However with band boom and coming of self production using computers, the situation for studio musicians has changed. It is not so evident on keyboards but work on drums and bass have diminished so rapidly you can almost see it, 2 years ago and last year was the peak of this phenomenon.

But for instance, while spending time together for a long time on concert tours, or Mr. Shinkawa himself is at the studio after finishing his work, what the conversation naturally and inevitably turns to is: "I wonder if we can keep going on like this." "Should I do something even if I don't get any money for it? " "Let's do something!" Then four years go by of this building up, "Alright then..." and finally put ideas into action.

"It was a good time to step back and take a good look at myself. Initially, I never imagined that it would be something on such a large scale. But, there is a strong feeling that the times are pushing me on" the current version is something that people of the same generation can feel nostalgic about-which is the fundamental concept of aosis. It is also the concept that Mr. Shinkawa had as started to make his own demos. Beyond that, "Primalroots" was created with the image of "a sound proposal" from this man that does arranging and producing.

"The Girl from Ipanema" by A.C. Jobim, one of Brazil's greatest composers. "SoulfulStrut" is a CTI creation picked up by Brazilian keyboard player, Walter Wanderley. Also "A man and a woman" was the theme song from the film of the same name, the writer of the words, Pierre Barouh also sang a Bossa Nova in the movie, and this same movie was a forerunner in bringing the popularity of Bossa Nova to France and Europe. So these were the three songs somehow connected to Sergio Mendes that who was provided the motivation for Shinkawa to get back to playing the piano, also even his self made originals, it all have a deep connection to his roots and throughout his career. However to say that he could not possibly have any more roots than this can only be said of Japan's renowned modern day poet, yet you can listen to Kazue Shinkawa reading poetry aloud (to rain). This is the first mother-son performance since his childhood days as they had 4-handed playing during piano recitals.

"A home overflowing with books, I was told to read books all the time. I have done music in the past to rebel against "my mother's poetry aspect." But after thirty, I realized that be it poetry or music, the only difference is that it is just another tool to express a message. Not just "singing poetry", I wanted to fuse "Japanese poetry" to the music and communicate my message." He recorded his mother's voice that he had heard ever since he was born and said "I now clearly understand the characteristics of microphones and other equipment." In that song "I played the piano but I was not very conscious of being a pianist." Is what he says and you can almost see his "piano playing" face. The origin of the title is better left unsaid but the I think the music on this album and the anecdotes tell us the importance of taking a good look at yourself.

"The reason why I took the trouble to write "to people 25 yrs old and above" is because I don't want this to be liked by all kinds of people. It is addressed to people of the same generation. We say "a musicians' revolt" but I want to make it a social phenomenon even if it does not sell, to continue on and persevere is what I feel is critical."


1. The girl from Ipanema
words & music : Antonio Carlos Jobim, Vinicius de Moraes
arrangement : Hiroshi Shinkawa
2. Soulful Strut
words & music : Eugene Record, Sonny Sanders
arrangement : Hiroshi Shinkawa
horn arrangement : Jerry Hey
3. Subete ni Furumono
music : Hiroshi Shinkawa
arrangement : Hiroshi Shinkawa
4. a man and a woman
words & music : Francis Lai, Pierre Barouh
arrangement : Hiroshi Shinkawa
5. Ame ni
music : Hiroshi Shinkawa
poet : Kazue Shinkawa
arrangement : Hiroshi Shinkawa
6. Imagination
music : Hiroshi Shinkawa
arrangement : Hiroshi Shinkawa
7. Tasogare
music : Hiroshi Shinkawa
arrangement : Hiroshi Shinkawa
Recording Data

Produced by Hiroshi Shinkawa

Acoustic Piano & Fender Rhodes : Hiroshi Shinkawa
Fender Bass : Hideki Matsubara (2.)
Acoustic Bass : Kenji Takamizu (3.6.)
Electric Guitar : Paul Jackson jr (2.4.)
Acoustic Guitar : Chuei Yoshikawa (3.)
Sax solo : Tom Scott (4.)
Horns : Jerry Hey,Gary Grant, Larry Willams and Bill Reichenbach (2.)
Vocal : Junko Yamamoto (1.)
Poetry Reading : Kazue Shinkawa (5.)

Recorded at aosis Recording Studio Tokyo Ebisu
and Westlake Audio Santa Monica
Engineered by Hiroshi Shinkawa
and Kaz Masumoto (studio legacy L.A.)
Mixed by Hiroshi Shinkawa
at aosis Recording Studio Tokyo Ebisu
Mastered by Shigeo "MT" Miyamoto at Victor Studio


aosis records Produced by Hiroshi Shinkawa & Toshiya Kamada

Executive Producer Teruo Saegusa for Victor Entertainment,Inc.