garp


midnight cowboy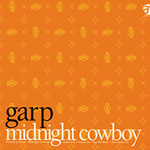 COMPACT DISC
VICL-69055 / aosis records / Victor Entertainment,Inc.
This is the celebrated first album of a band (garp) that is comprised of the core members of the aosis label, that has been continuing to release albums in due course. A lot of people who will pick up this album may already know this but one of the founders of this label is the man playing keyboards, Hiroshi Shinkawa. Guitarist Masaki Matsubara is one of his good colleagues. On bass is Hideki Matsubara (it just happens that they have the same name, they are not brothers nor are they in any way related). Then on drums, Naoya Hamada, anyone of these artists are musicians that have worked together for a number of years on various activities. The sounds made represents the originality of the aosis label and what it advocates and this band is called garp.
Let's introduce each member quickly. First keyboardist Hiroshi Shinkawa, born in 1955, started working professionally ever since he was a student and has participated in tours and recordings with the likes of Hi-Fi Set and Yumi Matsutoya. In the year 2000 he helped start up the aosis label as its founding father. Masaki Matsubara on guitar was born in 1954 and of course he has prticipated in recordings and live concerts with many professionals for a very long time and he has also released his own solo album. From aosis he has released two albums so far. Hideki Matsubara on bass was born in '61, plays a wide range of music, he is a top bassist that represents Japan and many people are familiar with his backup work with Sing Like Talking and Shikao Suga. Naoya Hamada on drums was born in 1956 is known for his work on concert tours and recordings with Hi-Fi Set, Dreams Come True and Junichi Inagaki. I think you may already realize this but, these four guys are all in their mid-forties. Every one of them has a professional career that spans over twenty years. Of course they have mastered all kinds of music and they all have such rich experiences. When this kind of guys get together, this is the music they can put together, is the point.

The leading figure of the group, Shinkawa had this to say:
"I just got members together that I have known since way back when. So I knew who could make what sound even before we started it all. Therefore, I had already heard the sound of the band in my mind from the very beginning, I guess. So, in actuality what was really needed was just fine tuning while playing in the studio, that's kind of how it was."
It does not mean that they definitely want to have people listen to an electrifying sound. Rather music for adult music fans that have heard a fair amount of music in their time, making these people feel that this is the kind of music they wanted but could never find. That is the very music that garp is striving for. By the way, don't you wonder what the band name "garp means? I know there was a movie by that name but..."
"To tell you the truth there is a girl I know who you could almost call a master of naming. So when I asked her this time, she said "It's garp, definitely garp!" so that was what we decided on (laughs). Well, if you really think about it, you would think of it as "Great Aosis Records Project" would be more fitting (bursts out laughing)." <Shinkawa>
Above all, listening to each and every song would be the fast track to understanding the essence of these artists.

1. 10cents a dance
This is an amazing introduction that makes you hold high expectations for the rest of the album. Also from the very beginning, you can feel a laid back kind of feeling. This laid back feeling is the very thing that garp is about. The rhythm gets your body moving without thinking about it but it definitely is not electrifying. The more adult you are the more you will enjoy this and in the same sense this is music with a level of performance that can only be achieved by adults. However if you listen very closely, for example to the drum or the bass, within the repetition of the back rhythm pattern, you should be able to catch the meat (fill in) placed within. If you can enjoy that kind of surrounding then you are a respectable aosis fan. Also even for the solos, to not flaunt technique and just simply play is what being an adult is all about.

2. Midnight Cowboy
If you are one of the veteran fusion fans around, you may remember a band from New York that dominated the first generation of the late '70s called "STUFF." The arrival of that band on the Japanese music scene had caused a great impact then. It could be said that they were the first ever to insinuate the feeling of groove from Japanese people. Up till that point it was just a repetition of Japanese musicians just competing over who could play fast or with more technique. With a completely different perspective of looking at music, teaching us the factor of getting down with the music, they were the ones who showed through example how important such a thing is. You can savor the same kind of feeling and surprise that was felt at that time. The number of sounds is definitely not abundant, but it covers up the spaces splendidly as music. It is definitely not full of holes. This kind of music has finally been created in Japan.

3. Liquid City
After listening this far into the album you probably realize this but, you might say that there is no fortissimo in garp's music. Simply, there is no need to play musical instruments loudly. You say something to people with songs or if you were to go along with how you feel, there is absolutely no need to raise the volume of the music. As long as the performing side can communicate the feelings, at the utmost, to the listener that is all that is needed. You could say that this song is a perfect example of this. Noone makes a big sound. This is playing that can only be done when all four members of the band trust each other mutually and sufficiently.

4. Heads Up
This is a song that makes you feel a little excited. They did not prepare a score written beforehand for this one. The members of the band decided various things while playing in the studio. Songs like these, are numbers that were probably polished up within that kind of an atmosphere. Event for this kind of song, these guys definitely don't play with a lot of sounds. That is one of their assertions as a band.

5. Say No More
Getting down with a gentle intro, a slight minor touch starts to develop. This is a song that makes you think that they walked into the studio with the minimum required amount of melody to play this. It is a "this was made after playing through it a few times and deciding what to do from there" kind of number. In other words the flow of the song is natural. Within the song there is no unneeded "tricks" or exaggerated arrangements, they don't need it and you can really hear their attitude on the subject. "Say No More" is a phrase that they would like to say to the Japanese music scene now.

6. She needs me
The fingering of the bass with a light mute and the simple yet something you can really get down to drums is how this song starts. This song has a delicate touch on the guitar and keyboard play that just flows both are quite impressive. But you can enjoy a four beat-ish swing feeling at the part that is placed in the middle of the song. Listening to this kind of playing may sound like ordinary playing to a non-professional but that is just not the case here. Make no mistake about it that only professionals among professionals can achieve this fullness and easy groove and it is all superior playing.

Although this may be a bad way to phrase it, but this is a group of four top musicians that if they wanted to make money they have the skills and ability to do whatever they want. However they don't sell out their musician spirit for money. They only play music that they themselves can be satisfied with, and the result of that is this masterpiece. I think that, if you listen to this you will be able to gain a sufficient understanding of that. Also the players themselves share the feelings of pleasantness, happiness, sadness and so forth together with the people on the listening side. That very thing is the sweet taste of music and the beauty of it all. These four guys in garp understand this better than anyone, they are all amazing musicians.
By Takaaki Sakurai


1. 10cents a dance
2. Midnight Cowboy
3. Liquid City
4. Heads Up
5. Say No More
6. She needs me
All Songs Written by garp
All Songs Arrangement by garp
Recording Data

Produced by garp

"garp" are
Drums : Naoya Hamada
Bass : Hideki Matsubara
Guitars : Masaki Matsubara
Keyboards : Hiroshi Shinkawa

Recorded at aosis Recording Studio Tokyo Ebisu
Engineered by Alex Kafu
Mixed by Alex Kafu at aosis Recording Studio Tokyo Ebisu
Mastered by Shigeo "MT" Miyamoto (FLAIR)

A&R : Chief / Hiroshi Kurihara(Victor Entertainment,Inc.)
A&R : Akihiro Harada(Victor Entertainment,Inc.)
Market Planning : Yasuo Masubuchi(Victor Entertainment,Inc.)
Recording Management : Keiko Tajima(naUta,Inc.)
Reiko Aoyama, Satoshi Hosogane(Cue & Co,Inc.)
New Media Operator : Keisuke Kuori

Art Direction & Design : Eori Wakakuwa (image plant)
Photographs : Minoru Ogishima (D-CORD)
Editorial Coordination : Victor Design Center

aosis records Produced by Hiroshi Shinkawa & Toshiya Kamada

Executive Producer : Teruo Saegusa for Victor Entertainment,Inc.